JAPANESE STEAK & SEAFOOD HOUSE
INFORMATION ABOUT KOBE
|Main |Information | Menu List|
|On This Page: Customer's Comments |
-About Sushi-
There's one big misconception about Sushi, that it's Raw. No! Sashimi is Raw, and Sushi is not necessesarily raw. Anything that has vinegared sticky rice, regardless if it's cooked or raw can be classified as Sushi. There are several types of sushi we serve at KOBE,
Maki- these are the rolled sushi like California etc.

Niger Sushi- are hand made sushi with seafood or any other ingredient on top of the oblong shaped rice.
Tamari- are hand rolled sushi shaped like cones.
Gunkan-maki- often called Boat Sushi- these are like nigiri but a strip of Nori (roasted seaweed) wrapped around the rice like "masago or Ikura" etc.
Inari sushi- these types are prepared with the fried soy bean curd (inari) holding the rice and sushi ingredients together.
Chirashi Sushi- a.k.a Scattered Sushi- the sushi rice is spread on a "bento" or in a bowl with several types of seafoods scattered on top.
And many more, of course!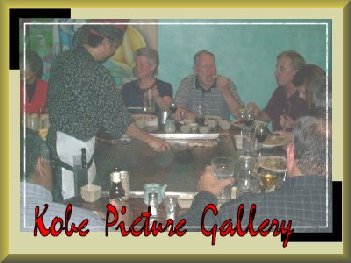 -Sashimi-is Raw Seafood-
These are served as slabs of fish about an inch wide, 1.5 inch long and a quarter of an inch thick. These can be Tuna, Salmon, Yellowtail, Redsnapper, Yellowtail, Octopus and so on. Mackerel is marinated in Vinegar.. but can be served sashimi style.
Bonido Tataki is pounded, partly seared type of Tuna (Skipjack Tuna) served in special "pontzu sauce" Customers call it a medium rare steak, they love it and it's very good!
-Leery about Raw Fish?-
One main thing you should know is that we serve only Saltwater Seafood for sashimi. This is due to parasites that freshwater fish carry. Parasites are not present in saltwater fish because salinity of saltwater kills these kinds of parasites. This is why in some Sushi Bars, if they are using Freshwater Salmon, they have to cure the fish with salt and water for a minimum of 36 hrs. This not our case, we only serve Atlantic Salmon. Did you know that Salmon, Tuna, Yellowtail, Redsnapper and many more are good for your health?
Yes, it's no "Greek" to us (no offense meant to Greeks, I meant "Secret" actually) that the fats in seafood are good for your heart. They also nourish your Brain. This is so because of Omega 3- Fatty Acids that these fish carry. Food for the Brain so they say. The Human Brain consist an astonishing 60% Fats, therefore it needs a high content of Poly-unsaturated Omega 3 Fatty Acids to make it function properly.
They don't teach this in Sushi Schools unless you ask. As for my case, It's best to keep you informed. But don't ask me about the Nutritional Values of each Sushi I make because I really don't know not a single Sushi Chef can tell you anyway. All we can tell you is.. It's great.. One of the Best you'll ever have.. If not the Best!
Just ask Chef Dave a.k.a David David for a Surprise Sushi and he will guarantee total satisfaction or you get free water! Like what the other David usually says "Guarantee no Refund!" Because he knows that you will totally like it. And by the way, "The other David" Is the David Ho everyone in Aiken knows, he owns the place! Chef Dave or David David is just the "caretaker" of the property.
KOBE Sushi Bar is manned by Chef Dave, Chef Roni and Chef Jun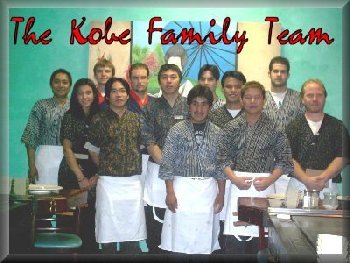 Customer 1-Thank you for the last three years of dining pleasures and we look forward to many many more.
Tony,Genia & Nicole Homes
Clearwater,SC.
Customer 2- Dave & Hon, Great Food, Atmosphere, service & friends. Your business provide a freat location for fun and relaxation. If once a week or once a month, we enjoy one time at Kobe!
Thanks for a fun time.
Bonnie & Steve
Customer 3 - Thanks for shows us what "real sushi" should taste like! Wonderful dinner with you.
Lauren & Carter Daniel
Customer 4-Thanks Dave for the wonderful sushi. Its is define better than Publix (HA HA). Its was a pleasure. Have Happy Holidays. We will be back soon.
Mae & Robert
Customer 5-David is the greatest sushi chef in the world! The "Anaconda Roll" was Superb!
Marvin & Lynda
Customer 6-Hon & David David! The sushi was wonderful, it was the best I ever had. Thank you so much. You guys are great! The atmosphere is awesome. I'll have to remember to ask for the white sauce next time!
Elizabeth
Staten Island, NY.
Customer 7-David & Hon, Yummy sushi this week as always. That tuna sure didn't tast like vinegar.. HA! :) We'll be back..
Amy & Kip
Customer 8-David, Your sushi is the personification of Perfection!, Superb!, Coruscalong!, Scentillatly!, Effulgent!
Stan,Gabe & Kayla
Customer 9-David, Delicious!, Excellent!, Superb!
Gwen & Cal
Customer 10-David, Thanks so much for allowing us to come and share a great experince with you. You are a true talent in our area. Please don't ever leave us, we would truly be lost without you. And for always supplying the best sushi in the world and memories that last a life-time. Thanks So Much,
Scott & Tracy Materison

---
Webmaster: Margaret D. Stephens, Old Update-Nov.2003 - New Update-April.2005
Copyright by Night Stone Unlimited 1970-2000 beyond
---